Thomas Cook's 555 shops to be bought by rival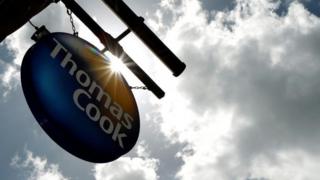 All 555 Thomas Cook shops are to be bought by rival Hays Travel in a move that could save up to 2,500 jobs.
The independent travel agent is buying the shops from the Official Receiver which was appointed when Thomas Cook collapsed last month.
Hays has already recruited 421 former Thomas Cook staff and the deal is expected to save thousands more jobs.
Hays said it planned to reopen all the shops with immediate effect.
John and Irene Hays, managing director and group chair of Hays, said: "Thomas Cook is a much-loved brand, employing talented people. We look forward to working many of them."
More than 100 new jobs will be based at the company's Sunderland headquarters, with the rest in shops across the UK.
The move is a significant expansion for Hays, which currently has 190 shops across the UK.
David Chapman, the Official Receiver, described the sale as an "important step" in unravelling the the 178-year-old chain.
You can receive Breaking News on a smartphone or tablet via the BBC News App. You can also follow @BBCBreaking on Twitter to get the latest alerts.